Newly Renovated Chapel At The Meritage Resort & Spa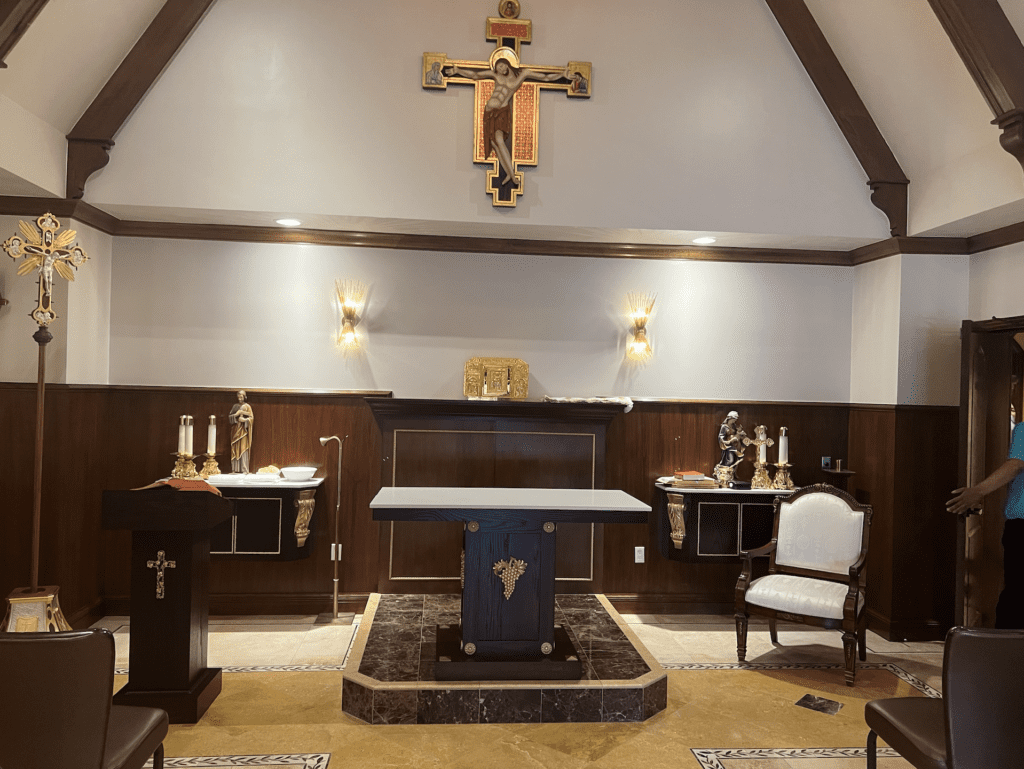 When we built the original Meritage Resort & Spa in 2006, it included a permanent Chapel ("Chapel") which began our Clergy Hospitality Program .
It was approved by the then Bishop of Santa Rosa/Napa Diocese and has served us well throughout the years, including the large crowds that come to attend Holy Mass during the Napa Institute Summer Conferences and various Priest Conferences.
During the 2022 Napa Institute Summer Conference, we had over 100 Holy Masses in this chapel over four days, which put a strain on our small broom closet sacristy. Thus, after 17 years, we expanded the sacristy and renovated the Chapel.
The new altar was blessed on June 9, 2023, by Bishop Robert Vasa, Bishop of Santa Rosa/Napa, with music provided by the Sisters of Santa Rosa, who provide sacristan service during the Napa Institute Summer Conference.
With the summer conference just a month away, we are thrilled to welcome our Catholic brothers and sisters to the new chapel where masses will be celebrated every hour during the conference. We are confident this chapel will be a place of peace and prayer for all those who visit the Meritage Resort & Spa.
In building Our Lady of Grapes Chapel, we welcome Catholic priests to celebrate mass through Clergy Hospitality. Those priests who celebrate the Holy Mass at the Meritage Resort through Clergy Hospitality will receive a complimentary room as well as some other benefits.
 You can request your desired dates by clicking on the Clergy Hospitality link, or you can contact Anh Nguyen, by e-mail at Sacristan@Napa-Institute.org, or by phone at (949) 861-4700 Ext. 163.
The Napa Sacristan, David Perez, e-mail: davidphilosperez@gmail.com, phone: (707) 799-4168, oversees all priests staying at Napa and directs them to celebrate Holy Masses at 8:00 a.m., Monday through Friday, 8:30 a.m., Saturday, 4:30 p.m. Saturday Vigil, and 9:30 a.m. Sunday.  The Mass times are published through a digital link outside of the Chapel.
In addition to Napa, California, we offer the same program at Hotel Viata in Austin, Texas, and at Ko'a Kea Resort, Poipu Beach, Kauai. You can learn more about the details of your stay by visiting the website.
I would like to invite all Roman Catholic priests to consider vacationing at these beautiful properties and celebrating mass for our hotel guests. I look forward to meeting some of you at mass in the near future.